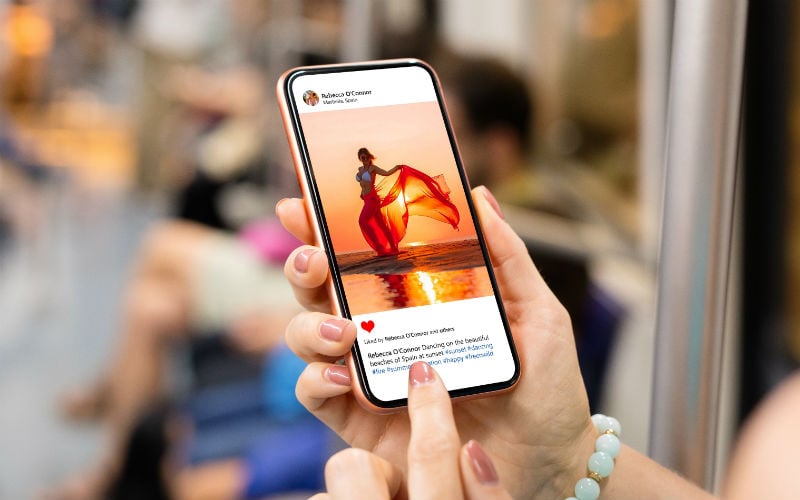 Instagram has launched NFTs on its platform in 100 countries across Africa, the Asia-Pacific, the Middle East and the Americas. 
The social media giant now allows users in those countries to post digital collectibles via the Ethereum, Polygon and Flow blockchains for free.
Users can integrate their crypto wallets from Coinbase, Dapper Labs, Rainbow, MetaMask or Trust.
In a blog post, Instagram highlighted how aerial and street photographer Natalie Amrossi (@misshattan) used the feature to drive awareness of her work and sales.
"NFTs have opened the doors to new opportunities for me and other artists around the world," she said. "This new technology provides us with another outlet to make a living and to connect with our fans and collectors. 
"Instagram has helped build careers for so many creatives, including myself, and now our communities can support us further by sharing our work on the platform."
Instagram is owned by Facebook parent company Meta, which said it will help reduce the emissions impact that might be associated with the display of digital collectibles on Instagram by purchasing renewable energy.
Cryptocurrency shorts
Ethereum co-founder Vitalik Buterin says early metaverse platforms, including that planned by Meta, will "misfire". He explains: "We don't really know the definition of 'the metaverse' yet. It's far too early to know what people actually want."
The crypto sector has raised $30.3 billion in funding so far this year, more than the whole of 2021, according to research from crypto analytics firm Messari. Among 1,200 funding rounds, $10.3bn went towards the centralised finance sector, with just $1.8bn raised by decentralised finance firms. NFT gaming raised $4bn. 
Ethereum-based algorithmic stablecoin project Beanstalk Farms has relaunched four months after suffering a $77 million hack.
Crypto prices
The overall market cap of the more than 20,400 coins is at $1.11 trillion at the time of writing (7am UK), a 2.2% increase in the last 24 hours.
Market leader Bitcoin – the original cryptocurrency created by the mysterious Satoshi Nakamoto – gained 2% to $23,475. BTC is 1% up in a week.
Ethereum, the second most valuable crypto coin – created as a decentralised network for smart contracts on the blockchain – rose 2% to $1,725. ETH is 2% up over the course of a week.
Binance Coin is a cryptocurrency created by popular crypto exchange Binance to assist its aim in becoming the infrastructure services provider for the entire blockchain ecosystem. Its BNB token gained 5% to $328, leaving it 15% up over seven days.
Cardano is an open source network facilitating dApps which considers itself to be an updated version of Ethereum. Its ADA token, designed to allow owners to participate in the operation of the network, added 4% to 54 cents and is 4% up in a week.
The XRP token of Ripple, a payment settlement asset exchange and remittance system, acts as a bridge for transfers between other currencies. XRP grew 1% to 37.6 cents, with its price 1% down on seven days ago.
Solana is a blockchain built to make decentralised finance accessible on a larger scale – and capable of processing 50,000 transactions per second. Its SOL token climbed 6% to $42.50 yet is 1% lower than its price a week ago.
Polkadot was founded by the Swiss-based Web3 Foundation as an open-source project to develop a decentralised web. Its DOT token, which aims to securely connect blockchains, grew 5% to $8.86 and is 1% up on its price a week ago.
Meme coin DOGE was created as a satire on the hype surrounding cryptocurrencies but is now a major player in the space. DOGE added 3% to 7c and is 1% up over seven days.

Avalanche is a lightning-quick verifiable platform for institutions, enterprises and governments. Its AVAX token grew 9% to $28.54 and is 19% up in a week.
Polygon aims to securely connect blockchains as a sort of decentralised internet. Its MATIC token added 2% to 93c, while it is slightly up in a week.
For valuations of the top 100 coins by market cap in US dollars, plus 24-hour price change, see below.