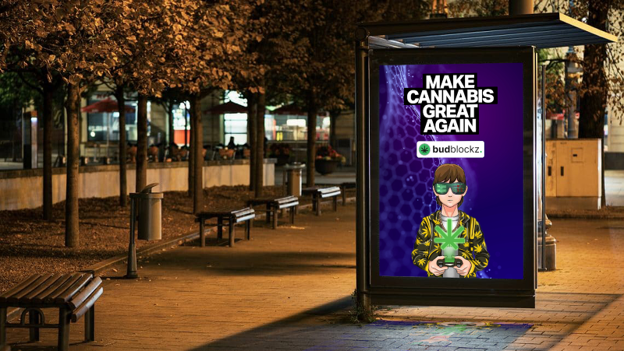 Please note that we are not authorised to provide any investment advice. The content on this page is for information purposes only.
The number of cryptocurrencies doubled between 2021 and 2022. As a result, there are now more than 12,000 of them on the market. Crypto enthusiasts are always looking for the next big thing because the top cryptos, Bitcoin and Ethereum, are saturated, and the prices have become too steep. 
But while crypto enthusiasts want to invest in lower-priced cryptos, they also want to ensure they are successful, like Safemoon and Shiba Inu. 
One new crypto is slowly creeping into the spotlight: BudBlockz (BLUNT). 
What Is BudBlockz?
BudBlockz is a new cryptocurrency that has settled on a niche market in the crypto world: cannabis. It is focused on the growth of the cannabis market by creating a cannabis ecosystem. 
The crypto coin is still in its pre-selling stage; an earlier private sale sold out with 26,880,000 $BLUNT tokens. As things stand, it has sold over 44 million more $BLUNT tokens in a presale, representing about 33% of the total $BLUNT tokens. The pre-selling activity will close on December 4th with the price expected to rise far beyond the current level of $0.029.
BudBlockz mapped out its entry into the crypto world in eight phases. After launching its website, its whitepaper marks its second and current phase. The next step is the token generation event, followed by a global marketing campaign and an official Uniswap launch. The last three phases are the burning event, the launch of $BLUNT staking, and the release of the Ganja Guruz NFT (non-fungible token) collection. 
What Is the Growth Potential of Bud Blockz?
The move to legalize cannabis is growing worldwide. However, there are still many regions around the globe where cannabis remains illegal. Having an ecosystem that highlights the cannabis industry helps with its market trajectory. 
The global cannabis market was pegged at $13.2 billion in 2021, with an expected compound annual growth rate of 25.5% between 2022 and 2030. That potential will easily translate into the crypto world, especially with innovations and future developments from BudBlockz. 
BudBlockz aims to have cannabis farms, e-commerce, and an NFT marketplace within the ecosystem. It is also set to open dispensaries worldwide where marijuana is legal, with $BLUNT as a means of transaction. Cannabis enthusiasts who live in places where the plant is illegal can still participate in community growth through NFT licenses. 
All BudBlockz activities in the pipeline hold a lot of potential for the new crypto. Developments are reminiscent of the rise of Safemoon and Shiba Inu shortly after their launch. 
The Rise of Safemoon and Shiba Inu: Will BudBlockz Replicate Them?
Shiba Inu was launched in August 2020 as a Dogecoin killer. It quickly rose to fame, and so did its price, which peaked at $0.00008616 in October 2021. The launch price was $0.000000000056.
Safemoon, too, had a fantastic start, launching at $0.0000000010 on March 10, 2021. A month later, the price was $0.0000035. 
Both have experienced massive price drops because of the crypto winter. As of October 26, 2022, Shiba Inu's price is $0.00000853, while Safemoon is worth $000000005906. The lack of utility for both cryptos has been blamed for the downturn. 
If BudBlockz can replicate the initial trajectory of Shiba Inu and Safemoon following their launches, the moon is the limit.
Learn more about BudBlockz (BLUNT) at the links below:
Official Website: https://budblockz.io/ 
Presale Registration:: https://app.budblockz.io/sign-up 
Telegram Group: https://t.me/BudBlockz 
Discord Server: https://discord.gg/s7hBFgvTmN 
All BudBlockz Links: https://linktr.ee/budblockz