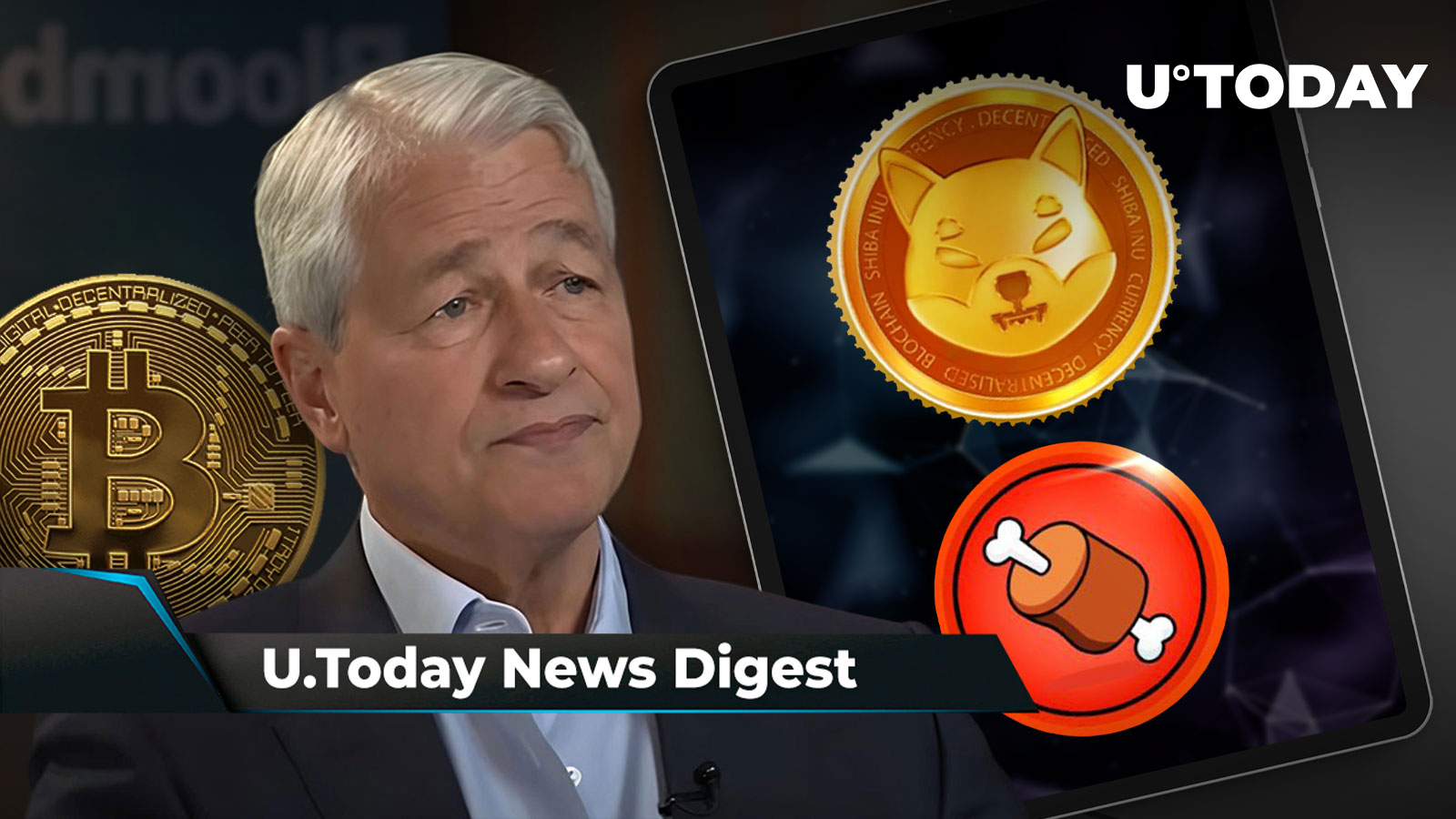 Valeria Blokhina
Check out the latest crypto news and updates in the industry with the U.Today news digest!
U.Today provides you with an overview of the past day's crypto events with the top four news stories.
JPMorgan CEO lambasts Bitcoin as "decentralized Ponzi scheme"
JPMorgan CEO Jamie Dimon has slammed the world's largest crypto once again. When speaking at the J.P. Morgan 41st Annual Healthcare Conference, Dimon criticized Bitcoin, describing it as a "decentralized Ponzi scheme." JPMorgan CEO has maintained his negative stance toward Bitcoin since 2017 after famously calling it a "fraud," and it looks like he has not softened to this day. He considers it a speculative "asset" that can never replace real money or become an effective payment system.
card: https://u.today/jamie-dimon-slams-bitcoin-as-dirty-and-expensive
Shibarium launch will trigger massive buys of BONE: PawZone founder
According to a recent tweet by JD, founder of SHIB-themed project PawZone, the launch of the long-anticipated Shibarium Layer 2 protocol will become a driver for massive purchases of BONE tokens. As stated by JD, when Shibarium kicks off, all of its users will need BONE tokens to pay gas fees on the network. Thus, the PawZone founder tweets, it is only a matter of time before every SHIB holder begins to buy BONE to prepare for the long-expected Shibarium release.
4 trillion SHIB transferred out of Binance, what's going on?
Yesterday, on Jan. 10, Whale Alert tracker spotted a large transaction carrying a whopping 4 trillion SHIB. The tokens on the move are worth $34,736,666 and were moved from Binance to an unknown wallet. The exchange has been seeing significant withdrawals due to the FUD that engulfed Binance since the collapse of FTX. Previously, Binance has recorded more than $12 billion in funds outflows over the course of two months. However, the trading platform is still recording inflows, with more than $8 million recently moved by a MATIC whale.
Shiba Inu to be featured at world's top men's fashion showcase
John Richmond, a renowned fashion designer and SHIB partner, has recently announced that he is going to present his new collection at the Pitti Immagine UOMO event in Florence. Richmond also hinted at showcasing the meme crypto at the world's top platform for men's collections by adding "See you there, SHIB Army" to the tweet. Shiba Inu partnered with John Richmond back in February 2022 to release an NFT collection of fashion pieces.